Long have we heard the reliable din of college student complaints. "We need more food in Rexburg," they proclaim. Over the years, our town has seen an influx of chains, food trucks, and new restaurants pass through town. But locals and a few students are in on a secret, perhaps one of Rexburg's best-kept secrets.
Good food is here. The best food is already here. And you can find it in a gas station just west of town.
What? Gas station food? Apart from its accolade as the Explore Rexburg Business of the Month in April of 2017, Blister's BBQ has long maintained a hearty reputation as serving some of the best food in Rexburg.
I know, I know. What can an article prove about how good food tastes? Why read about it when you can just try it for yourself?
You are very astute. If you are thinking this, close your browser, hop in your car, and get some Blister's right now. If you need some convincing, are curious about the different options, or are unfortunate enough to not be in Rexburg…this one's for you.
Why is Blister's the best food in Rexburg?
Or maybe, "how can anyone even know that?" Isn't taste subjective anyway? Despite what people constantly moan about, there are a plethora of fantastic places to eat in Rexburg. Now more than ever, there are food trucks cropping up in parking lots. The options are more varied than they have been in the past, with options ranging from vegan to grilled cheese and wings.
But we're not here to talk about them. We, you and me, are here to talk about the best food in Rexburg.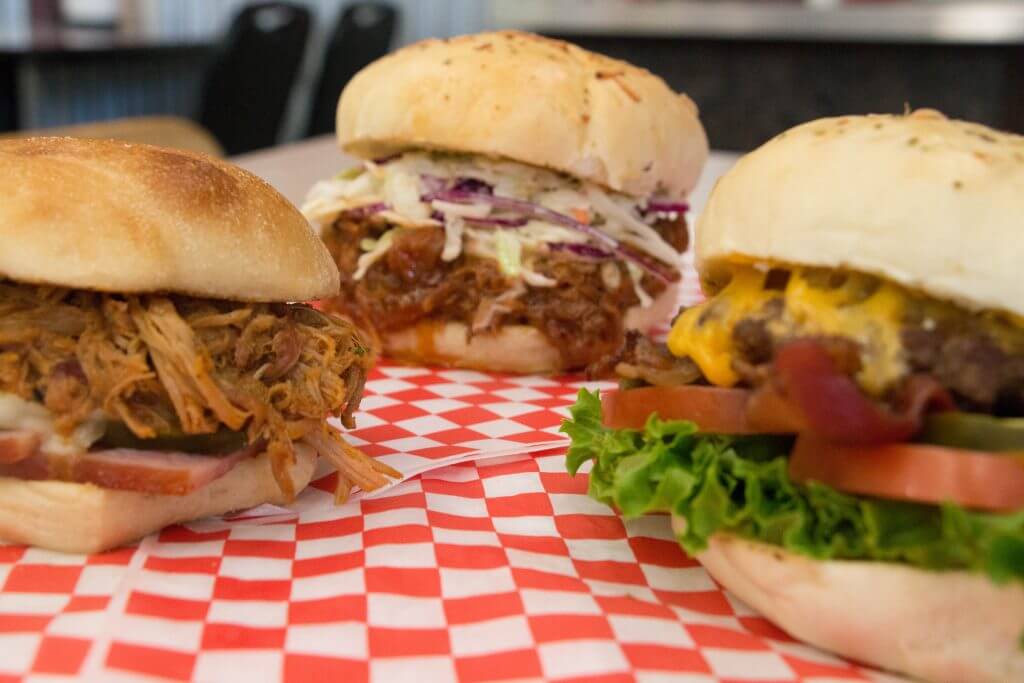 The Blister's BBQ menu explores the myriad of ways that one can consume meat. Those in the market for tri-tip, pulled pork, brisket, a solid burger, and more will find themselves in their element here. We smoke all our meats. We even allow the brisket to smoke for a full 24 hours before we consider it ready to serve. That's how seriously we take it.
At Blister's, we don't believe in wasting one morsel of the pig or cow that supplies our meat. Everything that is edible, we use. Each meat cut has its own personality, and the purpose of our variable menu is to bring out the best in each cut.
With our intimate knowledge of the meat cuts we are dealing with, we know how best to prepare them. Some meats are leaner, like tri-tip, and we need to make sure we don't overcook it while searing. Choice and prime meats, with a little more fat, are packed with flavor. The trick? Making sure all that wonderful flavor isn't lost during preparation.
This may be a good time for you to leave this article and see for yourself whether that delicious flavor is still there.
North Carolina barbecue in Rexburg
If you know anyone from North Carolina, you'll know how much barbecue means to a native of the state. How's that for a sweeping generalization?
This isn't entirely unfounded. A battle between the state's two barbecue styles, Lexington and Eastern-style, was the basis of a 2006 court case. The dispute was over the name of the Lexington Barbecue Festival.
So yeah, these guys take it pretty seriously.
We wish to bring that seriousness into our own brand of barbecue, and smoke it with the heartiness and fun of Rexburg.
While our style isn't full-fledged North Carolina, that's where its roots lie. We've certainly put our own spin and taste on things to give it that "Rexburg flare." We love marrying a little east coast barbecue with some Idaho style.
Catering for your next event in Rexburg
Not only is Blister's BBQ a great place to sit down and grab a bite to eat, but it's also a perfect catering choice. We've catered events up at the local university as well as work parties and weddings. And don't overlook us for family gatherings. Whether it's a super bowl party or just a family reunion, we can impress the toughest of crowds.
Give us a call or review our catering form for more information.